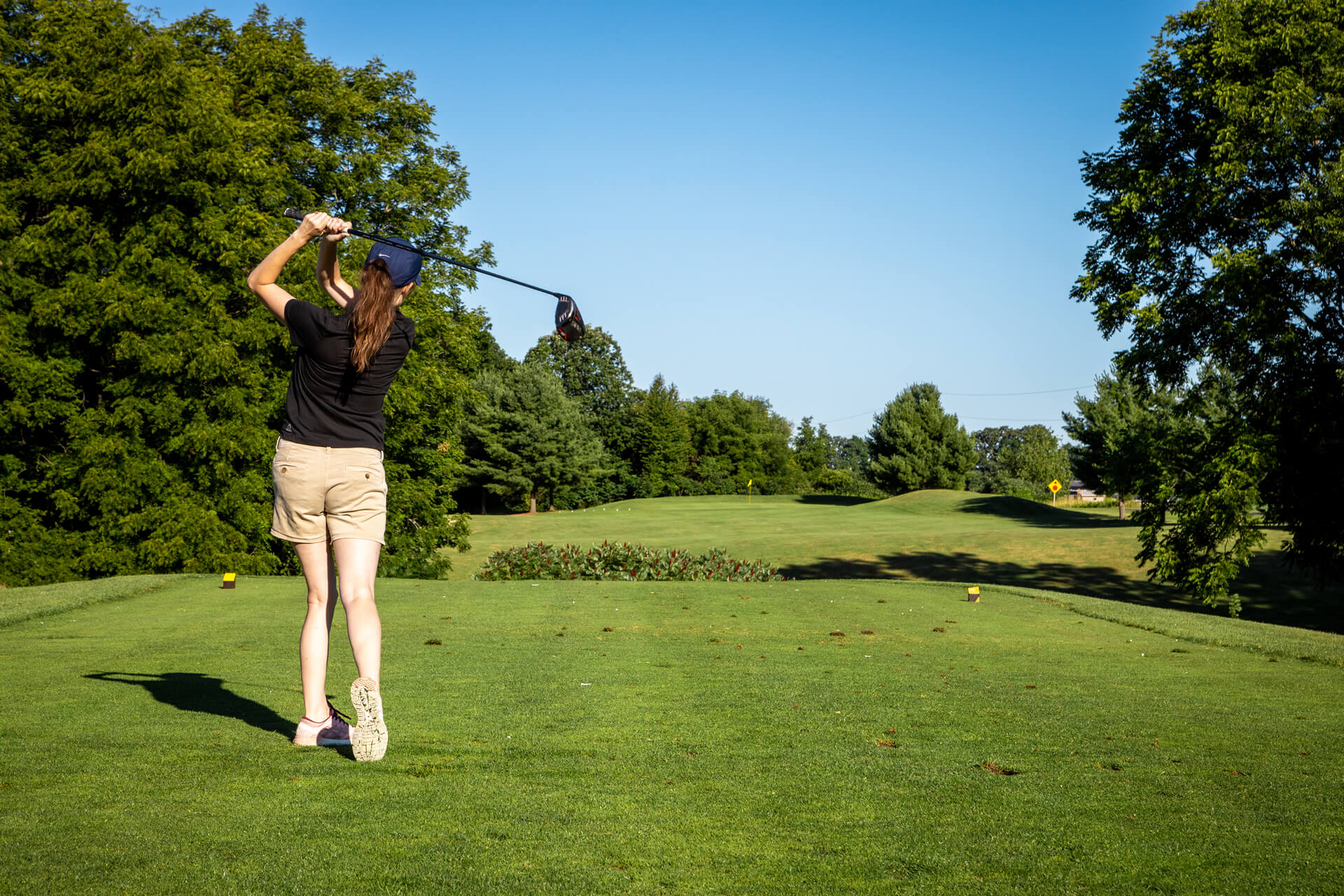 Eden Golf Club consists of four par 3's and five par 4's. Measuring 1716 yards from the forward tees and 2069 yards from the back tees, this shorter course is fun and playable for those just starting out. With its gently rolling fairways bordered by mature trees and scenic ravines, Eden offers golfers young and old the chance to test their game while enjoying a few hours in the great outdoors!
For the more experienced golfer, the course's narrow fairways and small greens emphasize the lost art of shot-making. Average and long hitters will have no problem reaching the greens; however, almost every tee shot will require precision.
We work hard to ensure the course is always in excellent shape. We also continue to make improvements. This year, we hope to add to our existing cart paths.
Our friendly staff are here to help process your tee time and provide you with a variety of hot and cold drinks and snacks. The clubhouse has a small dining area where you can rest and refresh before heading out to the course. Please note that we are NOT a licensed establishment. Alcohol is not permitted on the course.
We also sell basic golf essentials (balls, tees, etc.) and rent club sets.
General Golf Etiquette and Local Rules
Allow faster players to play through

Keep pace of play so everyone can enjoy their game–2 hours max for 9 holes and 4 hours max for 18 holes.

Replace divots and repair ball marks.

Please wear proper attire on the golf course.

Help speed up play – limit your practice swings and your time searching for lost balls.

Please keep power carts off tees and hills and 30 feet back from greens.
Perimeters of golf course are out of bounds — stroke and distance. Please do not trespass onto adjacent properties.

There must be one set of golf clubs per player.

Ball lying near young or staked trees may be moved 2 club lengths not nearer hole — no penalty.

Ball near course equipment or in a "ground under repair" area may be moved to nearest point of relief not nearer hole — no penalty.
White chalk line or roped off areas = ground under repair

White stakes = out of bounds
Blue: 200 yards to center of green

White: 150 yards to center of green

Red: 100 yards to center of green